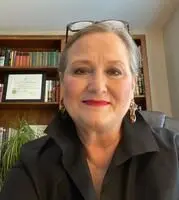 I am a Licensed Independent Clinical Social Worker, specializing in Individual and Couples therapy. I am the only Certified Gottman Therapist (CGT) in Birmingham, and a Bringing Baby Home Educator with additional training in Emotion Coaching - the Heart of Parenting through the Gottman Institute. Additionally, I am a Certified Prepare/Enrich Facilitator which is geared toward engaged couples and blends well with Gottman therapy.

I have 25 years experience as a psychotherapist, and another 15 or so providing community-based social services. I'm also a wife, mother and grandmother so I have some practical experience as well! Although originally from AL, I have lived and worked in several states: AL, KY, IN, CA, NE and GA. I believe this gives me a more global perspective on issues that we all face from time to time; and I've learned that there are many ways to have a happy and fulfilling life. I am experienced in a broad range of issues, but am especially interested in Life Transitions and Couples/Relationship Issues.
Over the years I've trained in several different treatment modalities, so my approach to therapy is eclectic and based on client need; always with a strengths-based/insight-oriented perspective in an affirming, non-judgmental environment - lightly seasoned with warmth and humor. As a CGT, I utilize Gottman Method Couples Therapy which is the gold standard for couples therapy. It's based on over 40 yrs of research by Drs. John & Julie Gottman and colleagues. I am always reading and attending workshops to gain new knowledge. I also enjoy learning from and sharing information with my clients.

I am occasionally able to add new clients. If you would like to discuss whether we would be a good fit to work together, please contact me. I don't answer my phone during sessions, so leave a message with a good time to call you back and I will do my best to get back with you in a timely manner.

Education BA: Jacksonville State University, Psychology & Sociology (double major) 1980
MSSW: University of Louisville, Kent School of Social Work (Families & Children focus) 1998

Current Licensure & Certifications

LICSW, PIP in Alabama
Certified Gottman Therapist
Bringing Baby Home Educator & Emotion Coach

Prepare/Enrich Facilitator

Professional Activities and Memberships

National Association of Social Workers (NASW)
Alabama Society for Clinical Social Work (ASCSW)